2 tags
DISSERTATION: Provisional Structure
Introduction: Doing Literature as (New) Media Fictions of Mediation and Remediation, 1759-2000 The Life and Opinions of Tristram Shandy, Gentleman (1759-67) Wired Love: A Romance of Dots and Dashes (1880) Stand on Zanzibar (1968) If on a winter's night a traveler (1981/79) Neuromancer (1984) House of Leaves (2000) Methodology: Textual Analysis in the 21st Century JPod (2006) ...
3 tags
'The book is dead ... long live the book!' →
'In the beginning was the Word. Then came Gutenberg, and it was good. But then came a giddy army of Japanese school girls, writing and "publishing" novels on cell phones…' — John Barber, 'The book is dead … long live the book!', The Globe and Mail, 18/06/2010
3 tags
ANALYSIS: Shaviro on 'Post-Cinematic Affect'...
'Digital technologies, together with neoliberal economic relations, have given birth to radically new ways of manufacturing and articulating lived experience. I would like to use the (…) works I have mentioned in order to get a better sense of these changes: to look at developments that are so new and unfamiliar that we scarcely have the vocabulary to describe them, and yet that have become...
7 tags
EXCERPT: 'I stole most of that last paragraph from...
"By the way, welcome to Oskaloosa and all the many features that make Oskaloosa a terrific place to visit. There's something for everyone here, from the historic city square with its bandstand to the George Daily Auditorium, the award-winning Oskaloosa Public Library, William Penn University and three golf courses. I stole most of that last paragraph from the internet. What the...
3 tags
WEEKNOTES: Easter 1
NEW QUESTION: 'I stole most of that last paragraph from the internet'*: Does the representation of digital media in twenty-first century fiction constitute a remediation of the form? It's still clumsy, but I think I'm starting to make progress. (*Douglas Coupland, 2009, Generation A, p. 4)
5 tags
'Texts Without Context' →
'THESE NEW BOOKS share a concern with how digital media are reshaping our political and social landscape, molding art and entertainment, even affecting the methodology of scholarship and research. They examine the consequences of the fragmentation of data that the Web produces, as news articles, novels and record albums are broken down into bits and bytes; the growing emphasis on immediacy...
3 tags
'Nation Shudders At Large Block Of Uninterrupted... →
'Dumbfounded citizens from Maine to California gazed helplessly at the frightening chunk of print, unsure of what to do next. Without an illustration, chart, or embedded YouTube video to ease them in, millions were frozen in place, terrified by the sight of one long, unbroken string of English words.' — The Onion, 09/03/2010
5 tags
SUPERVISION: Spring 8
Spring 8 weeknotes (figuratively) shredded by supervisor. Basic points: - My comments on the remediation of fact & fiction imply that it is something new, where fiction has always been a product of its world. Important not to get snared by the "technology changed everything!" rhetoric. - Instead, treat fiction as any other medium. Remediation of the boundaries between media,...
3 tags
'Reading "The Caryatids" by Bruce Sterling' →
'The novel is an insightful extrapolation of our present: the description of the faction (through each character in the 3 chapters) is a good example of how todays trends could evolve in the mid-term. We have networked-participative-ecofriendly Acquis, futile-wired-greedy Dispensation and Nation-State China who all have their own approaches to see the world. After Distraction and its...
7 tags
'Defining Barleypunk' →
'Gibson's strength as a writer lay primarily in his art direction.  From Neuromancer onwards, his books featured enough brand names and referenced enough forms of music and art to make his works exude a distinctive whiff of verisimilitude.  While Cyberpunk was ostensibly a reaction to the hypercommercialisation that began in the 1980s, Gibson wrote about the process having absorbed its mores...
6 tags
'William Gibson is a Cunt' →
'Spook Country, its title a reference to the fact that this it is supposed to be a spy novel, is set in the same world as Gibson's previous novel Pattern Recognition and, much like that book, is centered upon a female character with a first name that could equally be a surname and a brief to investigate something from an advertising mogul.  A former musician turned journalist for a...
6 tags
ANALYSIS: Gibson's cyberspatial legacy, Spook...
'He knelt and opened the case. The interior was padded with blocks of foam. He extracted something that she at first mistook for a welder's protective mask. "Put this on." He handed it to her. A padded headband, with a sort of visor. "Virtual reality?" She hadn't heard the term spoken aloud in years, she thought, as she pronounced it. "The hardware...
2 tags
WEEKNOTES: Spring 8
Some research questions: - How have new digital technologies (digital photography, the internet, the database) remediated the relationship between SF and realism in contemporary literature? What about the relationship between SF and popular discourse? SF and reality? - Did (first wave) cyberpunk prefigure this remediation? If so, what does that mean for contemporary (post-)cyberpunk authors?...
3 tags
'Proposal for a novel by William Gibson' →
'In around July 2005 (according to his blog) William Gibson began writing the novel that became Spook Country and delivered it 18months later to his publishers. [This] is William Gibson's original proposal for this novel.'
3 tags
6 tags
ANALYSIS: theory/practice in Doctorow's Eastern...
'Although ostensibly set in a near-future setting of Boston and London, circa 2022, Eastern Standard Tribe overtly collapses the distinctions between the imagined technologies of the fictional spaces and the existing technologies of the contemporary world. Reality is (science) fiction; (science) fiction is reality. In other words, the issues Doctorow explores in the novel — issues of...
2 tags
"[Gibson] said it's like dipping a finger into the zeitgeist. Its this..."
– Robin Sloan, 'The feeds, the blogs, the tweets, the years', Snarkmarket, 16/12/2009
6 tags
5 tags
'Cyberpunk in the Nineties' →
'Cyberpunk was a voice of Bohemia - Bohemia in the 1980's. The technosocial changes loose in contemporary society were bound to affect its counterculture. Cyberpunk was the literary incarnation of this phenomenon. And the phenomenon is still growing. Communication technologies in particular are becoming much less respectable, much more volatile, and increasingly in the hands of people...
4 tags
ANALYSIS: remediation of the novel by cinema...
'In the eighteenth and nineteenth centuries the novel was at one remove from life. But since the advent of film and television and sound recording it is at two removes. The novel is now generally about things and events which the other forms of art describe rather better. All the purely visual and aural sequences in the modern novel are a bore, both to read and to write. People's physical...
5 tags
"One of the ways in which Gibson has represented this 'when-it-all-changed' in..."
– Richard Skeates, 2004, 'A Melancholy Future Poetic', City 4, p. 139.
7 tags
"[W]e call the representation of one medium in another remediation, and we will..."
– Jay David Bolter and Richard Grusin, 1999, Remediation: Understanding New Media (London: The MIT Press), p. 45.
3 tags
'Information Consumption' →
'The opening chapters of Accelerando involve a character operating several steps up from the wearable-computing experiments of people like Steve Mann. So plugged in to his various devices, screens and implants was Dr Mann that, when a bunch of airport thugs decided he looked like a human bomb and forcibly detached him from his hardware, his ability to function normally was so demolished that...
3 tags
ANALYSIS: the 'cognitive mapping' of postmodern...
'Briefly, I want to suggest that the new space involes the suppression of distance and the relentless saturation of any remaining voids and empty places, to the point where the postmodern body—(…) wandering through a postmodern hotel, locked into rock sounds by means of headphones (…)— is now exposed to a perceptual barrage of immediacy from which all sheltering...
5 tags
ANALYSIS: Pattern Recognition and 'the...
'Although the footage segments are not numbered, many who follow their release believe they should be assembled to create a narrative, although in what order remains a matter of intense debate, as does whether they should constitute a narrative at all. The articulated narrative, of course, is the plot built around the ekphrasis that creates the footage through verbal representation. ...
5 tags
ANALYSIS: cyberpunk and fictions of information...
'Whatever the value and interest of cyberpunk fiction, (…) it is clearly not a fiction of information multiplicity; in its attempts to deal with a "postcontemporary" high-tech milieu, it all too often returns to rather conventional narrative orderings. At the same time, novels such as Neuromancer (…) augur a different kind of communications assemblage looming on the...
6 tags
ANALYSIS: cyberpunk and digital discourse (Vitas,...
'The lasting significance of cyberpunk is not merely limited to a massive export of themes and motives to the literary and cinematic "mainstream." Rather, its most outstanding achievement is a discursive one: cyberpunk fiction helped create what I have decided to call digital discourse, a two-headed monster which manifests itself both as a narrative discourse of literature and...
5 tags
3 tags
"Mediation does not serve as a translational or transparent layer, or..."
– Sarah Kember and Joanna Zylinksa, 2010, 'Creative Media between Invention and Critique, or What's Still at Stake in Performativity?', Culture Machine 11, p. 2.
1 tag
WEEKNOTES: Spring 3
Where I'm at: In the information society of right now, the average reader exists in a (continuous) state of information overload. Barring the inevitable definition-wrangling - so far, so straightforward. Following Sontag's characterisation of story as narrative-with-closure, these technocultural conditions could see fiction reassert itself as a conscious act of curation on the part...
5 tags
"How might an artist, in whatever medium, respond to the barrage of signs,..."
– Alan Bilton, An Introduction to Contemporary American Fiction (Edinburgh: Edinburgh University Press, 2002), p. 225.
4 tags
"How might a novellist represent contemporary, globalized reality if that world..."
– Andrew Tate, Douglas Coupland (Manchester: Manchester University Press, 2007), p. 38.
4 tags
ANALYSIS: the 'punk' in 'post-cyberpunk' (Kelly...
'In the beginning, the stereotypical cyberpunk protagonist was a disaffected loner from outside the cultural mainstream. Ultimately this proved not only tiresome but also betrayed a lack of extrapolative rigor. No future could exist in which there were only data thieves in trench coats and meglomaniacal middle managers. Someone had to be baking the bread and driving the trucks and assembling...
3 tags
4 tags
4 tags
ANALYSIS: the state of 'continous information' in...
'Today we (…) find ourselves in a world globally linked by media that provide us with continous information from the whole world about the whole world. This has an affect on literary fiction, which can react in one of two ways. It can either reinforce the difference between fictional storytelling and the flow of information, defending fiction's ability to select what it is...
3 tags
"There is an essential (…) distinction between stories, on the one hand,..."
– Susan Sontag, At the Same Time: Essays and Speeches (London: Hamish Hamilton, 2007) p. 224.
3 tags
ANALYSIS: 'the signature obsessions of cyberpunk'...
'Briefly, we believe that the signature obsessions of cyberpunk are: > Presenting a global perspective on the future. > Engaging with developments in infotech and biotech, especially those invasive technologies that will transform the human body and psyche. > Striking a gleefully subversive attitude that challenges traditional values and recieved wisdom. > Cultivating a...
4 tags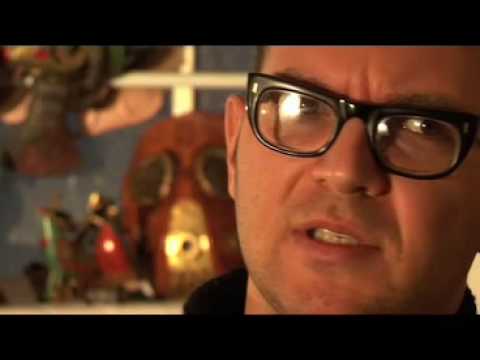 5 tags
'Making a revolution with Cory Doctorow' →
'It's the kind of SF that, as Doctorow has it, "predicts the present" rather than imagines the future. "I like to take something that already exists but isn't very mainstream and write about it as though it's being invented next year," he explains. "Then as the thing you've written about becomes more mainstream everyone assumes that you...
3 tags
4 tags
'Casper Country' →
'Just like Pattern Recognition, to which it is a sequel of sorts, Spook Country spends most of its inch subjecting its protagonists to the felt chaos of the world Gibson has so consistently augured over the years, and which now fills the inside of our skins: an encrypted world, a world whose joins gape at the beck of codings we cannot trace, a world as intrinsicate with the grammars of...
4 tags
'The Case of the World' →
'SF is no longer about the future as such, because "we have no future" that we can do thought experiments about, only futures, which bleed all over the page, soaking the present. (Cognitive estrangement is us.) In 2003, SF stories can no longer fruitfully be defined as texts which extrapolate particular outcomes from particular "nows"; such stories that are published...
5 tags
'Across the Border to Spook Country' →
'Amazon.com: How do you research? If you want to write about, say, GPS, like you do in your new book, do you actively research it and seek out experts, or do you just perceive what's out there and make it your own? Gibson: Well, I google it and get it wrong [laughter]. Or if I'm lucky, Cory Doctorow tells me I'm wrong but gives me a good fix for it. One of the things I...
6 tags
'Searching for Cyberspace' →
'Obviously, the frustration and anxiety Oedipa experiences at the overabundance of information and proliferation of meaningless signifiers is often shared by the Internet user. The vast majority of the information on the Internet is insignificant to the vast majority of users, a lot of it is insignificant to all the users. For the purposes of this thesis, for instance, it would have been...
4 tags
"[A]ny contemporary novel today has a kind of Google novel aura around it, where..."
– William Gibson, quoted in 'Node Idea', The Guardian, 31/08/2007
4 tags
'When Science Asks, "What If?"' →
'What is clear is that science fiction plays an essential role in the dissemination and popularization of science's most nascent and speculative concepts. In the 1980s, when we were introduced to a fictional "cyberspace," we digested the idea to the point of banality, and in the process unwittingly prepared ourselves for massive cultural and technological change. Does our collective...
4 tags
"For the post-horns (…) have here been replaced by something like a 'work..."
– Frederic Jameson, 'Fear and Loathing in Globalization', in: New Left Review 23, Sept/Oct 2003, p. 110
3 tags
5 tags
'Sign Language' →
'A woman moves through a forest of symbols, peopled by liminal obsessives, gathering clues to a conspiratorial mystery. So might you describe Thomas Pynchon's diabolically lean and funny The Crying of Lot 49, perhaps the most perfect American novel of its age. Fitting the same description is the new novel by William Gibson, whose own literary trajectory has seen him develop from noir...